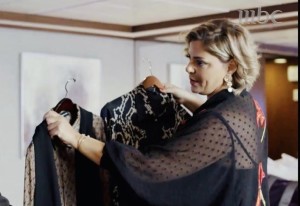 بعد مشاركتها في برنامج "بيوتي ماتش" Beauty Match الذيعرضته قناة MBC4، وفوزها بلقب "فاشونيستا أوف ذي ويك" Fashionista of the week، شاركت خبيرة المظهر ريتا غابريالفي برنامج "شط بحر الهوى" Stars On Board بموسمه الثامن،الذي جرى تصويره خلال إحدى الرحلات البحرية التي جالت معأبرز النجوم العرب على عدد من الدول الأوروبية.
وفي مسار الحلقة الثامنة التي عرضتها قناة mbc، أعلن الفنانناصيف زيتون عن فقرة خاصة تضمّنت نصائح قدّمتها خبيرةالمظهر ريتا غابريال إلى السيدة أم خالد التي تحتفل بعيد زواجهاالأربعين، وساعدتها ريتا على تجهيز نفسها لهذه المناسبة السعيدة،وأيضاً تمنّى الفنان كاظم الساهر السعادة الدائمة لأبو خالد وأمخالد.
على صعيد متصل، تستمر ريتا غابريال بتقديم نصائح مميّزة ومهمّة عبر صفحاتها على مواقع التواصل الإجتماعي، كما عبرإطلالات تلفزيونية وإذاعية.